Franklin, TN – October 8, 2018 – Integra Software Systems, a leading provider of loan origination software solutions, announced today that Michael (Mike) Picker has partnered with the founding Executive Management team: Jerry Pratt, President, and Rick Allen, Senior Vice President. Mr. Picker will serve as Integra's Senior Vice President of Sales and Marketing.
Picker brings to Integra over twenty years of experience in the financial software industry: Formerly he was employed with Dynatek, Inc.(MORVision) which was a provider of mortgage loan origination software; He also served as VP of Sales for Avista Solutions where he was responsible for critical mass growth expanding over 1,200%.
INTEGRA President, Jerry Pratt, stated, "Mike brings to Integra a wealth of knowledge, experience, and integrity. We look to combine Mike's proven track record with our 'Best of Class' loan origination system, EPIC, to provide our lender clients unmatched service and functionality at an affordable price."
"I am excited to be a part of the Integra Leadership Team and to help change the way LOS Technology is provided to the lending industry," said Michael Picker. "I look forward to increasing Integra's market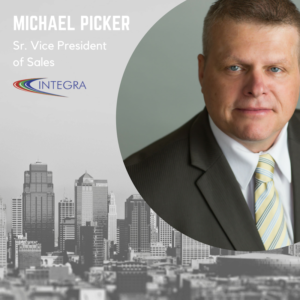 share and offering our 3 unique differentiators to lenders. One differentiator is Integra's new Plug'n Play approach (API kit). There have been millions of dollars of FinTech investment coming into the market over the past 5 years. Most of it provides exciting and efficient new technologies for lenders, including Nexgen point of sale, and companies like LBAware, Simple Nexus, Maxwell, Loan Beam, Lodasoft, Total Expert, and many more.INTEGRA's Plug'n Play allows lenders and third-party providers to easily connect with web-based EPIC, while INTEGRA's team sticks with our expertise and LOS technology, rather than trying to develop what is already available in the market. This allows us to offer a best-of-breed approach to lenders. Currently, most LOS providers attempt to take on too many tasks and grow too large to provide adequate products. It is Integra's belief that LOS providers should stick with the origination-funding of loans at a reasonable price point, allow lenders to choose the third-party products they want to utilize and integrate them with the LOS."
"The second differentiator is fully supporting any channel of origination and any loan type. EPIC includes Retail, Wholesale, and Correspondent channels. EPIC can also process any loan type a lender might desire, such as 360, 365, simple interest calculations, Biweekly, HELOC, HELOAN, and many other types."
"The third differentiator is a '3-in-1' approach for origination. For years, community banks and credit unions have been looking for a solution that can handle all three business channels: mortgage, consumer, and commercial loans in one system and one database. Integra's web-based EPIC solution is robust and powerful while providing substantial savings and data integrity for financial institutions."
About Integra Software Systems
Established in 1996, Integra partners with banks, credit unions, and mortgage companies; retail, wholesale and correspondent lenders – to provide each of them a competitive advantage with a loan origination system (LOS) tailored to meet their specific needs for Mortgage, Consumer and Commercial loan business channels.
For more information about INTEGRA Software Systems, please visit www.integraloantech.com or contact INTEGRA at [email protected] or call (877)253-7779.