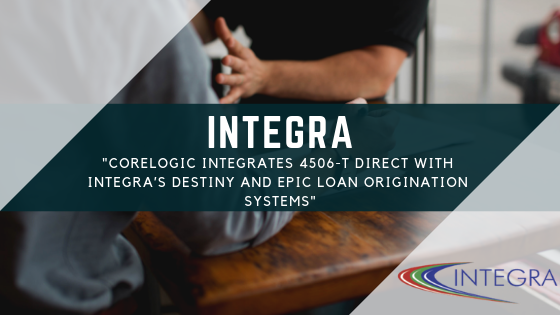 —CoreLogic Brings Industry Leading Income Verification Solution to INTEGRA Software Systems' Destiny and EPIC Platforms—
IRVINE, Calif., November 7, 2018—CoreLogic® (NYSE: CLGX), a leading global property information, analytics and data-enabled services provider, today announced that their 4506-T Direct Income Verification Solution is now available on Integra Software Systems' legacy Destiny Loan Origination System (LOS) and Integra's next generation, web-based EPIC LOS. When combined with the previously existing CoreLogic integrations of the Instant Merge credit report, Flood Determination services, LoanSafe Risk Manager™ fraud solution and the Mercury Network valuation technology platform, this new integration provides Integra users with a more complete solution offering from a single provider.
The IRS 4506-T form is used by lenders to retrieve tax return information to verify a potential borrower's income. Featuring one of the most rigorous quality control processes in the industry, the CoreLogic 4506-T Direct service minimizes submission errors and decreases verification turnaround times with the IRS, helping reduce customer costs associated with income verification. CoreLogic can accept both wet and electronically signed 4506-T forms.
"The inclusion of 4506-T Direct on Integra's Destiny and EPIC Loan Origination Systems continues our mission of providing mortgage professionals with the most comprehensive suite of products on the most innovative platforms in the industry," said Kevin Mullins, principal, business development for CoreLogic. "Additionally, with this new integration, Integra LOS users will now be able to better streamline their workflows with a more complete solution offering from a single provider."
Integra Software Systems' web-based EPIC, loan origination system, spans point-of-sale through post-closing and secondary marketing for lenders interested in efficiencies gained from automating every step of their loan workflow.
"Since 1996, Integra Software Systems is proud of its commitment to bring the very best software tools to our customers," said Jerry Pratt, president, Integra Software Systems. "In an effort to constantly add value for our clients nationwide, we are pleased to expand our CoreLogic offerings with the availability of the CoreLogic 4506-T Direct solution."
For more information about 4506-T Direct, visit corelogic.com.
About CoreLogic
CoreLogic (NYSE: CLGX) is a leading global property information, analytics and data-enabled solutions provider. The company's combined data from public, contributory and proprietary sources includes over 4.5 billion records spanning more than 50 years, providing detailed coverage of property, mortgages and other encumbrances, consumer credit, tenancy, location, hazard risk and related performance information. The markets CoreLogic serves include real estate and mortgage finance, insurance, capital markets, and the public sector. CoreLogic delivers value to clients through unique data, analytics, workflow technology, advisory and managed services. Clients rely on CoreLogic to help identify and manage growth opportunities, improve performance and mitigate risk. Headquartered in Irvine, Calif., CoreLogic operates in North America, Western Europe and Asia Pacific. For more information, please visit www.corelogic.com.
CORELOGIC, the CoreLogic logo and LoanSafe Risk Manager are trademarks of CoreLogic, Inc. and/or its subsidiaries. All other trademarks are the property of their respective owners.
Media Contact:
Alyson Austin
Corporate Communications
949-214-1414
[email protected]
Investor Contact:
Dan Smith
Investor Relations
703-610-5410
[email protected]