The Future of Lending Technology
Are you tired of outdated systems that lack innovation and customer service? It's a frustration many lenders have today. INTEGRA has a wide range of features that can help streamline your lending process. INTEGRA also has a client support advocate program. This means your assigned support analyst contacts you 1 to 2 times a month. Team Provider, Team Approach.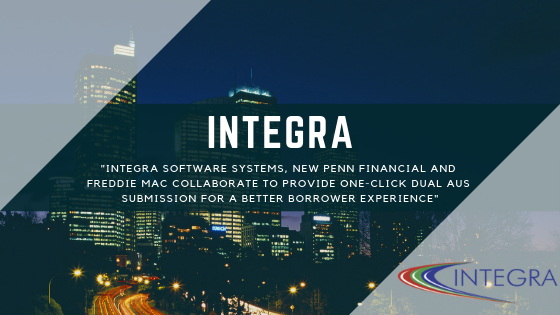 INTEGRA Software Systems, New Penn Financial and Freddie Mac Collaborate to Provide One-Click Dual AUS Submission for a Better Borrower Experience
DALLAS, Texas – Oct. 15, 2018 – INTEGRA Software Systems today announced that it is collaborating with New Penn Financial and government sponsored enterprise (GSE) Freddie Mac to launch a one-click submission of loan data to Loan Product Advisor®, the GSE's automated underwriting system (AUS). The solution will provide seamless integration that will help New…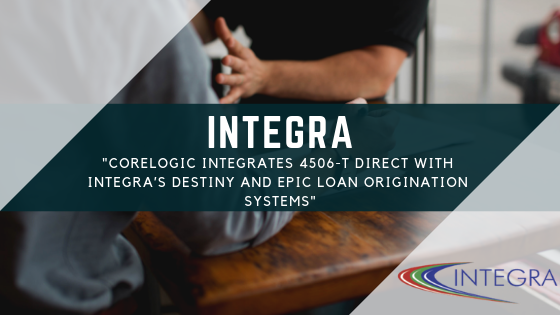 CoreLogic Integrates 4506-T Direct with INTEGRA's Destiny and EPIC Loan Origination Systems
—CoreLogic Brings Industry Leading Income Verification Solution to INTEGRA Software Systems' Destiny and EPIC Platforms— IRVINE, Calif., November 7, 2018—CoreLogic® (NYSE: CLGX), a leading global property information, analytics and data-enabled services provider, today announced that their 4506-T Direct Income Verification Solution is now available on INTEGRA Software Systems' legacy Destiny Loan Origination System (LOS) and…
The Future of Lending Technology
INTEGRA's single focus is Lending Technology with the best service in the industry. Mortgage, Consumer, or Commercial lending automation, we do it and we do it well. EPIC, INTEGRA's highly innovative, web-based technology platform, combined with a plug n' play approach to connect with other innovative lending technologies, allows you to drive efficiencies in all areas of your lending business.